Option 1: Request a Free Ring Sizer
Get Our Ring Sizer Tool. For a better fit, request a plastic ring sizer be mailed to you.
We will mail a free plastic ring sizer to you within 5 to 7 business days once we receive your request. Please fill out the request form below and click submit.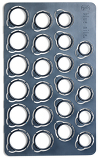 Measure Current Ring 
1.Select a ring that properly fits to the intended finger. 
2. Place the ring over the circles to the right. Matching the inside edge of the ring to the circle nearest in size. This measurement refers to the inside diameter of the ring. 
3. If the ring falls between two sizes, order the larger size. inside diameter Circles in US ring size and diameters.
Helpful Tips of Finding Accurate Ring Size 
 Measure your ring size at the end of the day. Your finger will be the largest at the end of the day and when the temperature is warm.
Measure finger size few times to avoid an inaccurate reading. If your measurement falls between 2 sizes, choose the larger size.
Your ring should fit your finger comfortably, loose enough to slide over your knuckle, but will not fall off.